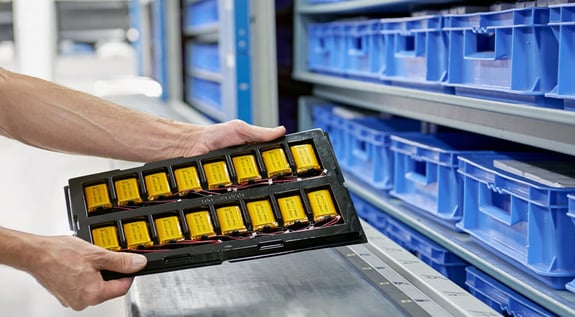 Lithium Polymer Cells
Lithium Polymer Cells Information
Lithium polymer batteries are ideal when your product design needs to be flexible. These are available in a wide array of designs and sizes.
Industries
Suitable for consumer electronics, automation, medical devices, security technology, power tools, transport, and measurement technology.
Voltage
The nominal voltage of lithium ion cells depends on the electrode material and is 3.6 or 3.7 volts. The charge voltage is usually 4.2 volts.
Temperature
The electrolytes may freeze at temperatures of around -25 ° C. Some manufacturers specify a working range of 0-40 ° C. 18-25 ° C is ideal.
Capacity
The capacity of a lithium battery is reduced over time even without use, mainly because of the reaction of lithium with the electrolyte.
PRODUCT SPECIFICATIONS
LITHIUM POLYMER BATTERIES
Infinite number of sizes since steel housings are not required so very thin cells can be manufactured.
Lithium polymer cells are built lighter
Custom sizes are available at relatively low production volumes so that the existing space for the battery can be utilized optimally.
Lithium polymer cells are also negatively affected by overcharging.


Type

Capacity

(mAh)

Voltage

(V)

Size

(mm)

T

W

L

LP906090JH

6,000

mAh

9.0

60.5

92.0

LP735977JH

4,800

mAh

3.70V

7.3

59.5

78.5

LP675365JU

2,800

mAh

3.70V

6.9

54.0

68.0

LP504783JU

2,050

mAh

3.70V

5.2

47.5

84.5

1,900

mAh

3.70V

10.0

34.5

52.0

1,850

mAh

6.0

51.0

63.0

9.9

30.5

50.0

5.4

38.0

62.0

5.8

36.0

63.5

6.5

38.0

52.5

3.0

51.0

68.0

LP523450JU

5.4

34.8

52.5

LP603443JU

6.0

34.5

45.0

10.0

26.0

32.0

4.4

35.0




44.0

LP503040JH

5.0

30.5

42.0

8.0

20.5

38.0

5.2

22.5

45.5

LP333437JU

3.5

34.0

39.0

LP402535JU




4.5

25.5

37.0

5.6

18.5

38.5

5.0

21.0

32.0

8.5

4.0

5.0